In the heart of the roaring crowd and beneath the dazzling stadium lights, the 2023 FIFA Women's World Cup was more than just a football tournament; it served as a beacon of change, radiating its transformative influence on the global stage, particularly in the realm of women's health. Beyond the goals and tackles, this article explores the profound pre and post-event impact this championship has had, focusing on the lens of women's health within India's burgeoning women's football ecosystem.
Prelude to Progress: Empowerment, Representation, and Hope
In the vibrant tapestry of narratives woven by the Women's World Cup, figures like Mary Earps emerged as champions of change. Earps' advocacy for gender equality in goalkeeper jerseys led industry giants like Nike to reassess their marketing and distribution strategies, emphasizing the importance of not just equal representation but also equitable health support for female athletes.
The tournament echoed the powerful adage, "You cannot become what you cannot see," amplifying the significance of role models like Megan Rapinoe and Marta. These icons extend their influence beyond the pitch, becoming symbols of inspiration for countless girls who dare to dream and take up football, driven by the pursuit of better health and fitness.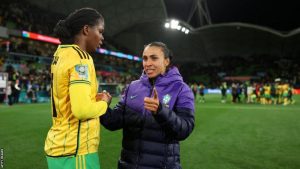 India's Ascent: Paving the Path Forward for Women's Health
Within the dynamic landscape of Indian women's football, recent strides provide a glimmer of hope for better health and well-being. Bala Devi's triumphant return to the Asian Games squad and the introduction of full-paid contracts serve as significant milestones. The All India Football Federation's ambitious "Vision 2047" aims to elevate the Indian Women's League into a four-tier pyramid by 2026, injecting a dose of aspiration into the ecosystem. However, the journey to empowerment, particularly in terms of health, remains a continuous one, marked by both achievements and challenges.
While India once stood as a contender in the Asian Championships in the early 1980s and reached its highest FIFA world ranking of 49 in 2013, the current rank of 61 suggests room for growth. The Indian Women's League (IWL), the premier domestic league, remains short and intense. The brevity of the season, coupled with matches often scheduled amidst scorching heat, places player health and well-being under threat. This underlines the urgent need for comprehensive infrastructure development with a strong focus on women's health.
In this demanding environment, the absence of extensive mental health support is palpable. Players navigate not only physical challenges but also psychological stressors. The hasty recruitment of support staff leaves little time for implementing injury prevention programs or understanding players as individuals with unique health needs. To truly promote women's health, grassroots development requires a holistic approach. Exposure to structured medical and strength and conditioning facilities becomes paramount, not just for injury prevention but also for enhancing overall health and physical literacy.
Marketing, too, plays a pivotal role in shaping the narrative. India boasts inspiring stories of players who've risen from humble backgrounds, showcasing remarkable skills and resilience. Yet, these stories often remain untold, overshadowed by other narratives. Amplifying these stories through mainstream media could galvanize a movement, encouraging more young girls to embrace the sport, not just for the love of the game but also for the pursuit of better health.
In contrast to cricket's more established ecosystem, football's journey requires bolstering support staff, gym training facilities, and other essential infrastructure. While there have been positive shifts, such as recent sponsorship deals, the road ahead necessitates consistent efforts. In a nation where countless women play football, harnessing the power of numbers and empowering them through sports can have far-reaching implications, particularly in the realm of women's health.
The Power of Mum-Athletes: Balancing Roles and Redefining Norms in Women's Health
The 2023 Women's World Cup showcased the resilience of athlete-mothers who skillfully balanced their roles both on the field and at home. This highlights the need for India to establish effective post-maternity and perinatal support for its athletes, acknowledging the critical role women's health plays in their ability to return to top-level competition. Players like Alex Morgan, Crystal Dunn, Julie Ertz from the USWNT, and Jamaican players Konya Plummer and Cheyna Mathews demonstrated that motherhood and competitive football can indeed coexist, breaking down stereotypes and showcasing the importance of robust women's health support.
This progress is evident when comparing the 2023 World Cup to the findings of the 2017 FIFPRO report. In 2017, only 2 percent of female players aged 29 and above were mothers, highlighting a glaring gender disparity in professional football. However, the landscape has transformed since then, with around a dozen mothers actively participating in the 2023 edition of the Women's World Cup. This substantial increase underscores the growing acceptance and recognition of motherhood within the realm of women's football and the importance of women's health in facilitating this change.
Moreover, the recent Qualifying tournament conditions FIFPRO report published just before the 2023 Women's World Cup underscored the need for equitable conditions and support for female players. The assessment brought to light significant gaps in remuneration, access to medical care, mental health support, and training facilities in major tournaments. These findings provide a critical blueprint for India to learn from, emphasizing the importance of creating comprehensive and supportive environments that empower female athletes to excel both on and off the field, placing their health at the forefront.
ACL Injuries Epidemic: Overcoming Adversity for Women's Health
In the midst of the Women's World Cup fervor, a concerning trend emerged – even the best women football players on the global stage were not immune to the specter of injuries. Renowned names like Putellas, Miedema, Macario, Mead, and France's Marie-Antoinette Katoto, all Ballon d'Or nominees, suffered ACL injuries in the past year. This phenomenon illuminated the widespread issue of ACL injuries haunting the Women's World Cup, where female athletes are 2.5 – 3.5 times more susceptible compared to their male counterparts. The journey back from an ACL injury is a demanding one, taking around 9 to 12 months of rigorous rehabilitation to regain full athletic form. The statistics, though sobering, reveal that 45% of those afflicted never return to competition, and 35% struggle to reclaim their previous level of performance, emphasizing the significance of women's health in their recovery journey.
This predicament is a result of the intricate interplay between nature and nurture that affects female athletes. Biologically, women's bodies, often tailored for childbirth, exhibit nuances such as a broader pelvis, narrower intercondylar notch of the femur, distinct landing strategies, and muscular recruitment strategies, all of which influence their vulnerability to ACL injuries. While hormonal fluctuations during the menstrual cycle have been linked to ligament laxity, more research is needed to conclusively establish this connection. On the nurturing side, training environments for female athletes require considerable improvement. The shortage of qualified sports science and sports medicine professionals, as well as access to structured strength and conditioning programs, predominantly affects developing countries like India. Inadequate facilities and a lack of certified personnel result in athletes resorting to travel and staying in metropolitan areas for quality pre-season – postseason training & recovery.
Stepping onto Equal Turf: Boots, Surfaces, and Support for Women's Health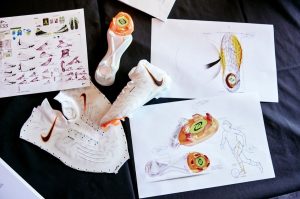 Environmental factors like football boots, heat stress, and playing surfaces have also grabbed attention. The arrival of women-specific football boots by Nike and Puma marked a step toward addressing this issue. Notable anatomical differences in women's feet call for tailored solutions, yet the overall design of football boots has mostly stayed the same. The problem escalates on variable playing surfaces, where abrupt changes in traction can lead to injuries. To mitigate this, practitioners advise athletes to own 2 – 3 pairs of football shoes with varying outsoles to match the traction levels of different surfaces.
While footwear is just one aspect contributing to injuries, women footballers in India face a significant challenge in the form of ACL injuries. These injuries often occur without access to the essential support required for proper treatment and recovery. Tragically, in November 2022, a 17-year-old player lost her life due to complications arising from an ACL surgery gone wrong in Tamil Nadu, highlighting the urgent requirement for improved care and post-tournament support. This critical issue emphasizes the urgency to not only allocate financial resources but also provide education and holistic resources for the well-being and successful return of athletes to the sport, prioritizing women's health.
Championing Women's Health: Global Initiatives for Change
Amidst the ebbing fervor of women's football, some global initiatives warrant our attention.
Bridging the Gender Gap: Washington Spirit's Leadership
Enter the Washington Spirit, a groundbreaking soccer club in the USA, owned by Michele Yang – an Asian woman of color – who's the CEO of a multi-club football group. This remarkable stride for professional women's football sets a precedent for clubs worldwide. Notably, the club is actively recruiting female physiology experts and sports scientists to optimize female athletes' performance, cementing the notion that female-led leadership can spur transformative change in training methodologies and facilities. This idea is potent for India, where accomplished women in corporate and business leadership roles could channel their influence toward bolstering women's health in sports.
FIFA's Game-Changing Play: Female Athlete Health Project
Meanwhile, the 2023 FIFA Women's World Cup has left an indelible impact. A milestone was reached on August 18, 2023, with the launch of the FIFA Women's Health, Wellbeing, and Performance project. Crafted by FIFA's Women's Football Division, this venture addresses pressing health challenges in women's sports through three pillars: fostering awareness, conducting research, and providing education. Spearheaded by Sarai Bareman, FIFA Chief Women's Football Officer, the initiative promises holistic development, tailored training during hormonal shifts, and support during pregnancy. With experts like Dr. Dawn Scott and Dr. 
Georgie Bruinvels on board, this project champions women's unique physiology, promising to redefine the landscape of women's sports, with a particular focus on women's health.
Conclusion: Paving the Way for Women's Health
In conclusion, the FIFA Women's World Cup 2023 has transcended the boundaries of football, touching on critical aspects of women's health and well-being. It has served as a powerful catalyst for change, bringing to light the importance of equal representation, health support, and opportunities for women athletes.
As we've explored the journey from empowerment to the challenges of ACL injuries and the significance of women-specific sports gear, it's evident that women's health plays a central role in their athletic success and overall life. The experiences of athlete-mothers and the growing acceptance of motherhood within the world of women's football emphasize the need for holistic support systems.
Initiatives like Washington Spirit's leadership and FIFA's Female Athlete Health Project show that change is not only possible but already underway. These efforts prioritize women's health, paving the way for a more inclusive and equitable sports landscape.
In closing, let's remember the words of Ali Bowes: "Sport mirrors society. Tackling gender inequality in sport echoes progress on broader fronts." The Women's World Cup journey extends beyond the realm of football, paving the way toward a fairer, more inclusive, and empowered world, where women's health takes center stage.
For further information on how you can best improve female athlete well-being/ support, visit Simply Periods an initiative by Simply Sports Foundation at www.simplyperiods.simplysport.in or contact via email at support@simplyperiods.simplysport.in or by phone at +91 70451 11604.