Most women experience at least some physical and emotional symptoms either during menstruation or as part of pre-menstrual syndrome (PMS). The most common symptoms are abdominal cramps, back pain, headaches, bloating, fatigue, anxiety, mood swings etc. The effects of menstruation are individual and different women experience different intensities of these symptoms in different cycles. Some women may experience very painful menstruation, some have mild discomfort, and some may not experience any significant symptom. The American College of Obstetricians and Gynaecologists believe that around 85% of menstruating women experience at least one symptom of PMS as part of their monthly cycle.
How much of impact does menstruation cycle have on a woman's sports performance is not very clearly understood as this remains a taboo subject and is not researched thoroughly. 
"The impact periods have on different athletes is an area which needs to be addressed," says Dr Richard Burden, senior physiologist at the English Institute of Sport. "In elite sport, the research in that area is quite limited."
However, testimonials from a few successful women athletes have definitely caught the world's attention towards this  subject and the sports ecosystem has slowly started acknowledging the issue.
Recently, 19-year-old tennis player Zheng Qinwen after losing to world no. 1 Iga Świątek in the 2022 French Open said, "I wish I can be a man on court, so that I don't have to suffer from this." She spoke about how she was not able to give her best because of menstrual cramps.
Former world number one Martina Navratilova also stated that her playing had been affected. She told the BBC, "You don't want to use it as an excuse, but it can affect some players in a big way. I never talked about it, but it certainly was there."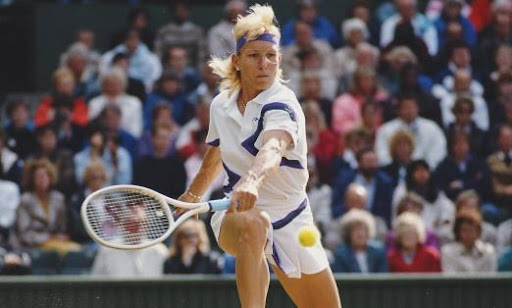 Figure 2:Martina Navratilova in action during the 1990 Wimbledon final
India's Anju Bobby George too has had some difficult experiences that severely impacted her performance. "I was in top form in every other way, but the period made me feel weaker and there was nothing I could do about it. After the events, many people criticized my performance, but this is not something I could ever tell them."
Figure 3:Anju Bobby George
British sprinter and Olympian Dina Asher-Smith called for more funding to research the impact of menstruation on athletic performance after she limped out of her 100 meter title defence at the European Championship in August 2022 due to cramps in her calves which she attribute to her "period issues".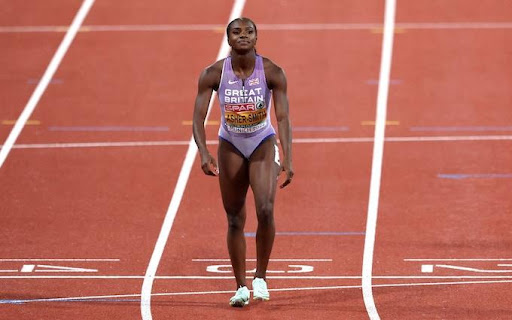 Figure 4:Dina Asher-Smith walks over the line after cramp
Apart from the physical discomfort, women athletes also battle some psychological issues too due to menstruation.  Experts believe that fluctuating hormone levels can cause some women to feel depressed or irritable before and during a menstrual period. In addition, existing mental health conditions may temporarily worsen during a menstrual period. Some sports or events also prescribe a particular dress-code that may not be appropriate for women at the time of menstruation and cause unnecessary anxiety amongst menstruating women. For example, sporting uniforms such as the traditional whites of Wimbledon and the tight trousers of horse-riding can leave women anxious about the possibility of "leaking," Annabel Croft a former tennis player said.
Research Findings
Since different women experience different intensities of symptoms during their menstrual cycles, it is difficult to objectively define the impact of menstruation cycle on sports performance. A recent research paper [1] explored athletes' experiences and perceptions of the menstrual cycle in relation to its impact on sporting performance. In this study 15 international female rugby players participated in individual semi-structured interviews. The outcome of the study showed that almost all athletes (93%) reported menstrual cycle-related symptoms and 67% considered these symptoms impaired their performances.
Since overall sports performance can be influenced by both perceived and physical factors, another study [2] investigated the effects of menstrual cycle phase on perceived performance and objectively measured performance in an athletic population. According to this research, a substantial proportion of female athletes believe their performance is impacted in certain menstrual cycle phases especially during early follicular and late luteal phases. A common reason attributed to this perceived performance decline was fatigue and a feeling of lethargy. However, studies examining objective performance using anaerobic, aerobic or strength-related tests do not report clear and consistent effects of the impact of menstrual cycle phase on physical performance. Further research is needed to quantify the impact of menstrual cycle phase on the variability of physical performance outcomes.
Figure 5: Menstruation Cycle (28-day)
One more interesting study was conducted to assess how menstrual cycle phase influenced the incidence of injuries in international footballers [3]. The study concluded that muscle and tendon injuries occurred almost twice as often in the late follicular phase compared to the early follicular or luteal phase. In fact, 88% of muscle and tendon injuries seem to occur in the days before periods start.
Summary
Research conducted by scientific institutions and sporting bodies on the impact of menstruation and the experiences shared by women athletes clearly indicates that menstruation cycles do have a significant emotional and physical impact on sporting performance of women athletes. However, there is a need for further research to properly quantify the impact of menstrual cycle phase on physical performance outcome.  The results of these studies also emphasise the need for athletes and support staff to undertake menstrual cycle monitoring to appropriately plan and take proactive measures to help perform consistently throughout their menstrual cycle. This  will also encourage more young girls and women to  take up sports confidently.

References
https://www.scienceforsport.com/understanding-and-approaching-the-entire-menstrual-cycle-a-guide-for-coaches/

https://www.bbc.com/sport/tennis/30926244