Reliance Foundation and Simply Sport Foundation have partnered on the initiative 'Simply Periods', to build awareness around menstruation and its impact on female athlete health and performance. Our first stop as partners was in Odisha. The following article highlights the personal experiences of our male facilitator discussing menstruation with female athletes and coaches in Odisha. Read on!
Imagine a 13-year-old girl telling you that she has periods just because God has decided to be unfair to her. She told me she loves God, but she thinks God is harsh. When I probe her to tell me why she thinks so? She tells me she believes that getting her period (menstruation) at the age of 13 was a curse from God. I tell her she is wrong and that a period is a blessing instead.
I was a Gandhi fellow in the Kalahandi district of Odisha before joining the Simply Sport Foundation. I had a responsibility as part of my fellowship to collaborate with the district administration to improve the quality of education in the district.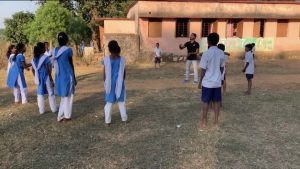 23 million women drop out of school yearly due to poor menstrual hygiene management; while working at the grassroots level, I realised that menstrual awareness is also vital to a successful education system. I began studying menstrual health awareness and collaborated with a local NGO to organise a program to raise awareness in a small community with 30 teenage girls. I failed to scale the program because of other commitments.
In early June, I spoke to Aditi Mutatkar, who heads the Simply Periods initiative at Simply Sport. I was always passionate about sports. I competed in school and played state-level badminton competitions. Aditi offered to work on the Simply Periods project in Odisha. The project aimed to empower female athletes and coaches by providing deeper knowledge on menstruation and its impact on sports performance. My instinct told me to accept her proposal because I had failed to do it earlier in my fellowship journey, particularly in my home state, where people still hold onto taboos and social stigmas about menstruation. I went through a one-week orientation and training on the workshop content with the Simply Periods team before starting the assignment.
 For the athletic meet, Manasi, my SSF teammate and I, along with the Reliance Foundation team, set up a kiosk (tent) at Kalinga Stadium in Bhubaneswar on June 15. Our main goal was to comprehend how menstruation was perceived by athletes, coaches, and sports scientists personnel working at the national and international levels. People approached us and asked us openly, and we always got incredible response from everyone. Meeting aspiring international athletes, national-level athletes, and coaches from other countries made my job pretty enjoyable.
Mainly, all female athletes came to Mansi to share their issues. 
"Mam Mera Jyda Bleeding Kyu Hota He Periods Ke Time? (Why do I get severe bleeding on my periods?)
"Mam Periods Ka Kuch Permanent Illaz Nhi He? (Is there any permanent treatment to get rid of periods ?) 
"Kuch Dawai Suggest Kariye Mera Kal Event He Me Periods Band Karwana Chata Hu" (Mam, please suggest me some medicine. I want to delay or stop my periods because my event is tomorrow.) 
" Mam Hame To Sirf Pads Aur Cloths Ke Bare Me Pata Tha, Yaha To Aur Bhi Period Care Product He, Kyse Istamal Kare"? (Mam, we have only heard of and used cloth and pads, so many products are kept here. How do I use these products?)
These are the questions that athletes most frequently ask. I saw how skilfully Mansi was attempting to explain everything. But deep down, I was depressed, wondering why all the female athletes were expressing confidence in Mansi alone.
My knowledge and comprehension of periods were decent, but I tried to improve on it every day. I tried to address the athlete's concerns about menstruation the following day. I was doing fine, but at one point, I started to stutter when I used the words the vagina, the breast, and other reproductive parts in front of a large female crowd. That day, I understood why female athletes don't prefer me because I didn't feel comfortable talking to them. I reflected and told myself that this was normal. There is no need for men to be embarrassed or bashful about any of their bodily parts or periods in front of the female audience. In the early phases of my contract, I also contemplated quitting my job just because I was not comfortable discussing one of the major life experiences that women go through. 
Through my conversations with the Simply Periods team, I read more research on this subject. I realised many athletes drop out of sports when they hit puberty and menstruation starts. Often, this is only because they are uncomfortable sharing their issues with coaches and don't know how to manage periods.  
This hit me hard. I told myself I shouldn't give up. I started working on my knowledge, facilitation style, and approach methods. I told myself it's all about stepping forward to resolve the issues that my mother, sister, and friends face daily. We covered over 700 female athletes and 100-plus coaches from Odisha in one month. I realised the ground reality is extremely shocking. The athletes don't even know why periods happen, what periods are, or what the menstrual cycle is.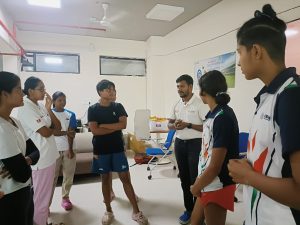 A coach in Odisha shared with me one day, 
"Hamare Athletes Jhut Bolke Practice Nhi Aate He, Ki Unka Knee Me Injury He. Jab Ki Hame Pata He Unka Periods Hua He Ye Periods Keliye Jhut Bolte He" ( Our athletes give us excuses or tell a lie that they are suffering from knee pain to skip the practice, But we know they are lying and they must be on their periods). When I asked them, did he confront them about this?
He told me, "Problem wohi hain. Na woh bolti hain, na hum puchte hai!"
I learned over my one-month adventure that change requires time and work before it can occur.
One of the most pressing requirements in the female athlete ecosystem in India today is education about menstrual health. The role of men is very important in bringing about this change, as most coaches and support staff with female athletes in the country are men. 
When speaking with women at home, at work, or on a sports field, we men must be upfront about periods. During my one-month journey with the Simply Sport Foundation, I developed an in-depth understanding of menstrual health's significance for female athlete health. 
To improve the female athlete ecosystem, we must all work together to expand and transfer the knowledge of menstruation to those who are less fortunate. Men will have to play an equal part here. 
To all the men reading this, I just have one thing to say-
Like me, try not to give up when you feel ashamed when you talk about periods. In the last workshop I did in Odisha, it wasn't just Manasi to whom the athletes asked questions. I, too, played an equal role and could have an open conversation on all things menstruation (without any stuttering) with them. 
Funnily enough, I realised in the course of trying to empower them I was also empowering myself to be a better man and human.
Thank you, Simply Periods.