Has there ever been a scenario where you have planned your workout attire for the following day because it motivates you to work out? Have you ever looked forward to your workout because you recently bought a new gym gear that you wanted to wear because you think you look great in it? Do you feel more confident when you wear certain pieces of clothing as opposed to others?
Have you ever wondered why and how clothing affects our mental mindset? 
When it comes to playing a sport and being a part of a team, the jersey of the team is often something that athletes wear with a sense of pride and comradery as a symbol of being a part of it. No matter which sport a female athlete plays, clothing is crucial. This is because it cultivates a sense of identity, unity and belonging among female athletes, which motivates them to perform well for the collective success of the group. 
The right clothing is not only important for the physical performance of the athlete but also for the mental mindset. This is because if you are comfortable with the clothes you wear, you are more confident, and this increases an individual's self-esteem and will to perform well. The right clothing allows for athletes to be mentally prepared for challenges that might come their way since they are physically at ease. Wearing the right clothing also prevents injuries by supporting parts of the body that are at risk. For example, basketball players often wear knee pads to protect their knees from contact with the hardwood floor or goalkeepers in football will wear shoulder and knee pads to protect their bodies from injuries when they dive and jump to save goals. 
"Playing without a well-fitted sports bra is like playing without spikes or gloves. Every female athlete deserves that access no matter their background," said Australian cricketer Georgia Redmayne.  
For women, a well-designed sports bra protects from exercise-induced breast pain, which can be a significant barrier to practicing sports. For instance, up to 72% of women experience breast pain while running. Previous research has shown that the increased breast support provided by sports bras not only influences breast movement but can also positively influence running performance. Greater breast support has been linked to lower oxygen consumption and a better range of motion (Burgelman, 2023). 
According to the WHOs 2022 reports, 85% of adolescent girls do not get enough exercise, and clothing is one of the major contributing factors. This suggests that while females might want to exercise and participate in sporting activities, clothing serves as a deterrent that causes a mental block. This is because clothing choices can influence body image and self-esteem which can impact the mental mindset of females. Female athletes who feel comfortable and confident in their attire on the field or in the gym are more likely to have the perception of a positive body image and higher self-esteem, which in turn leads to improved focus, motivation and overall improved emotional and mental well-being. 
EXAMPLES FROM VARIOUS SPORTS 
For years, female athletes have had multiple sets of clothing regulations to follow when playing a sport, especially at the elite level. 
During the Muller British Athletics Championships at Manchester Regional Arena, Olivia Breen, a double paralympic world champion, was told that her sprint briefs were "too short and inappropriate". Statements like these could affect athletes mentally as, according to Breen, her only reason for wearing the briefs was so she could be as light as possible so she can run and jump faster. She was really angry and upset by these statements because she knew that if a male athlete was in her place, then he would not be similarly criticized. She also added, "For a girl with low confidence or low self-esteem, it may make them feel rubbish."
On the contrary, dress code regulations might leave female athletes feeling conscious and exposed. Norway women's beach handball team was fined for improper clothing as they were wearing shorts instead of bikini briefs during a competition, despite their jerseys causing no impairment to their performance. 

Image retrieved from- https://www.espn.in/olympics/story/_/id/31848847/team-gb-olivia-breen-disgusted-comments-inappropriate-sprint-kit-official
For the first time in 146 years, Wimbeldon changed the dress code for women. Women can now wear dark-coloured undershorts. This ruling has posed as favourable to women who are worried about staining when on their period. In a Cosmopolitan article, it informed how most women have period stains on every pair of underwear. 54% of 36,000 women surveyed by THINX said they ruined every pair of underwear they owned due to their period. This ruling would allow women to focus solely on their performance instead of their clothes which are a potential source of anxiety. Before this ruling, female athletes such as Serena Williams and Alize Cornet have been penalized and have faced criticism for their choice of attire which could potentially impact their mindset and focus during matches.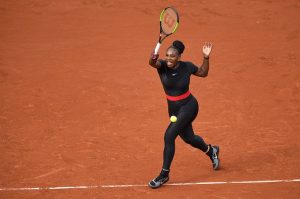 Image retrieved from – https://www.elle.pl/sport/artykul/serena-williams-skrytykowana-przez-french-open
In long-distance running events, speculations surrounding the clothing and attire of female athletes are criticized for reinforcing gender stereotypes and hindering their comfort and performance. For example, the International Association of Athletics Federations (IAAF) imposed rules on the length of shorts and the extent of body coverage for female athletes. 
Emma Pallant-Browne, a British athlete, was papped with a small period stain on her swimsuit, to which she responded, "This is the unglamorous reality of racing on your period. This is a true female sport, and the more barriers we can break through, the better. I raced in a swimsuit because of overheat, I pass out in hot races, and on my period, my body temperature was also higher." Hence wearing the right clothing during the menstrual cycle can impact a female athlete's performance and well-being.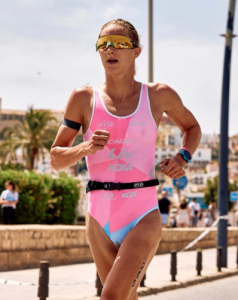 Image retrieved from- https://www.theglobeandmail.com/sports/olympics/article-emma-pallant-brown-triathlon-photo/ 
Some female athletes who follow religious practices such as wearing the hijab or modest clothing, have faced challenges due to clothing rules. For example, Muslim athletes participating in various sports have encountered restrictions regarding their attire, leading to controversies and discussions based on religious freedom, cultural inclusivity and gender equality. 
Clothing should be designed specifically for the needs of female athletes as this can empower them and help them challenge gender stereotypes while promoting inclusivity. Female athletes should be allowed to wear clothes tailored to their needs and preferences so that they feel recognised, supported and valued, fostering a positive mental mindset. 
As the sporting world is becoming increasingly female-dominated, it is imperative for the deep-rooted traditions to take a back seat and for women's athletic abilities to trump the misogynistic views that favour a women's allure. It's about time that rules related to women's clothing need to be eradicated completely for there to be an equal and levelled playing ground for women all over the world. The idea that female athletes need to dress a certain way other than those that best suit their sport and demands are quaint, archaic, sexist and outdated. 
URJA MEHTA 
Urja has been an athlete and has competed at the national level while playing football. She will graduate from Loughborough University with an MSc. in Sport and Exercise Psychology at the end of this year. She will work in India for a year with athletes before she shifts to Glasgow next year to pursue her Professional Doctatorare in Sport and Exercise Psychology. 

References 
https://awtsuprints.com/blogs/fitness/why-is-clothing-important-in-sport
https://edition.cnn.com/style/article/female-athlete-clothing-olympics/index.html
https://www.bbc.com/culture/article/20230707-wimbledon-the-controversy-of-tenniss-strict-146-year-old-dress-code#:~:text=For%20the%20first%20time%20in%20146%20years%2C%20Wimbledon%20has%20changed,who%20are%20on%20their%20period.
https://culture.org/sports-uniforms-impact-on-female-athletes-and-the-need-for-change/
Communications, F. S. (2023, April 21). The right sports bra may increase your running performance by 7% – Science & research news | Frontiers. Blog.frontiersin.org. https://blog.frontiersin.org/2023/04/21/sports-bra-increase-running-performance/#:~:text=For%20women%20particularly%2C%20a%20well
‌https://www.hindustantimes.com/trending/true-female-sport-athlete-bleeds-through-her-suit-asks-people-to-normalise-periods-101685612103049.html-
https://www.cosmopolitan.com/health-fitness/a12091987/period-facts/